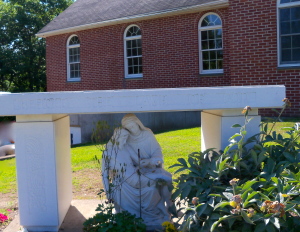 St. Patrick Cemetery is a sacred and final resting place of peace and dignity. There are two cemetery locations, 425 Pascoag Main St. in Pascoag, RI and 49 Emerson Rd, in Harrisville, RI.
St. Patrick Catholic Church in Harrisville, RI operates both cemeteries under the auspices of the Pastor. The Pascoag Main St. cemetery extends into three sections from the early 19th century to the current day. The two oldest sections are Pascoag Cemetery (Burrillville Historical Cemetery No. 14), and St. Patrick Cemetery (Burrillville Historical Cemetery No. 15). A small stonewall surrounds all three cemeteries.
St. Patrick cemetery located on Emerson Rd., Harrisville dates back to the early 19th century through today. Individuals buried in St. Patrick Cemeteries were and continue to be a part of a faithful and Catholic community.
Our picturesque chapel is available in the event of inclement weather.
Directions
St. Patrick Cemetery
425 Pascoag Main St. Rte. 107
Pascoag, RI 02859
St. Patrick Cemetery
49 Emerson Rd.
Harrisville, RI 02830
Pre-Arrangement
Purchasing your cemetery plot before your family actually needs one is an important yet inevitable decision you can make together. The decisions following the death of a loved one can be overwhelming and difficult, especially when planning a funeral and burial in a short period of time. Making pre-arrangements can ease that burden in the midst of grief.
Effective April 1, 2015, the following is a list of current prices for cemetery plots:
Single Grave – $950.00
Two-Burial Plots – $1700.00
Three-Burial Plots – $2500.00
Four-Burial Plots – $3300.00
One plot can accommodate:
One interment or multiple cremains
Columbarium at St. Patrick Cemetery: Effective 6/2021
Price per niche is $2130.00 and holds two standard size urns.
For further information, please contact Our Lady of Good Help Inter-parish office at 401-568-5600 or 401-568-8280 regarding the purchase of cemetery burial plots or niche. Note: Prices are subject to change.
Contact
St Patrick Church
Harrisville, RI
401-568-5600
Monday-Thursday 9-2.
Our Lady of Good Help
35 Dion Drive
Nasonville, RI
401-568-8280
burrillvillecatholic@gmail.com
Office Hours are Monday-Thursday 9:00 a.m-2:00 p.m.(closed Fridays)