Fr. Scott, Thank You.
Parishioners of St. Joseph's Church and St. Patrick's Church appreciated your friendship, spiritual guidance and all the accomplishments you made on behalf of our Parish. Thank you Fr. Scott Carpentier. May God continue to bless you and guide you in your new Parish.
   Mass of Installation. Sunday September 10, 2017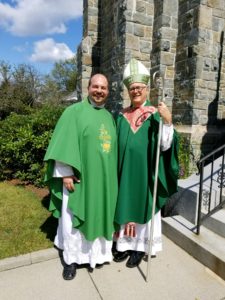 Note: If you would like to share your recent St. Joseph's church event photos with your parish community on our church website, please email your  pictures to Donna E. Pelletier c/o Judy at St. Joseph's Church. Examples of events are: Wedding Ceremony, Baptism, Applefest, Church Yard Sale,  Spring Dinner, Parish breakfast, etc.  Fr. Dandeneau and the parish office reserves the right to approve all photos.
Note: When e-mailing pictures please limit photos to only 2 or 3 photos per e-mail. Thank you.
Christmas 2018
Thank you to all the volunteers who decorated our church for the holiday. It was absolutely beautiful.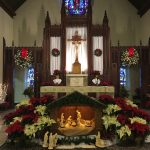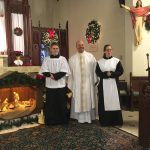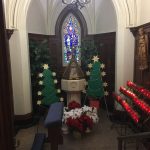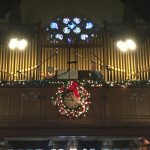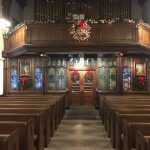 April 2018
Our parishioner, Raymond Boucher, handcrafted and donated this beautiful book stand to St. Joseph's Church.  The book stand is located on the side altar prominently holding our prayer intentions. His meticulous workmanship and generosity is 'awesome'.   Thank you Ray for your hard work and generous gift.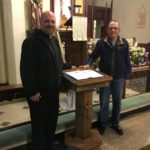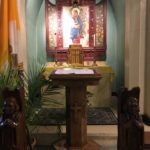 Holy Thursday, March 29, 2018. Fr. Scott washing the feet.
Easter Sunday, April 1, 2018  Thank you for all the beautiful flower donations and to our volunteers who dedicate their time to present a beautiful altar week after week.
St. Joseph's Day Celebration March 18, 2018. We enjoyed delicious food and decadent desserts including Zeppoles.  Thank you to Father Scott, our volunteers, our cooks and our parishioners for making it a 'special day' for our patron Saint.