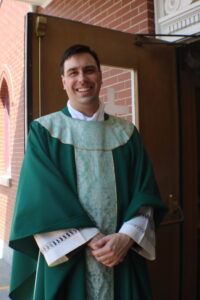 Rev. Stephen J. Dandeneau, Pastor of St. Eugene's Church and St. Joseph's Church.
I grew up in Cumberland, R.I., and was a parishioner at St. Aidan Church. I am the youngest of six children by a 10- year difference. All my siblings are married with children, and I have twelve nieces and nephews.
I attended the Cumberland Public School system until high school. For high school, God gave me the privilege of attending Mount Saint Charles Academy, and I graduated in 2001. I was also very blessed to attend Saint Anselm College, and I graduated in 2005.
During college, God helped me hear His call to discern the priesthood. Upon graduating from college, I was accepted as a seminarian for the Diocese of Providence in 2005 and began my seminary formation. I graduated from the seminary and was ordained on June 25, 2011.
After I was ordained, I was assigned to Our Lady of Mount Carmel Church in Bristol, R.I., as Assistant Pastor and to Roger Williams University as the Catholic Chaplain from July 2011-June 2014. In July 2014, I was assigned to Saints John and Paul Church as an Assistant Pastor before being assigned as Pastor of St Eugene Church in July 2018. Now it is my privilege to succeed Fr. Scott as Administrator of St. Joseph Church and to be here with all of you. I cannot fill his shoes; however, I look forward to being part of your community, worshipping together with you and growing in the faith together with you.
In Christ,
Father Stephen J. Dandeneau Pastor, St. Eugene