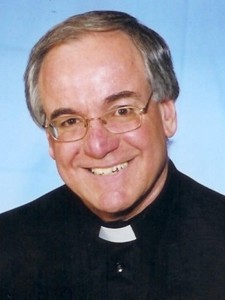 Father Cabral served as Pastor of St. Joseph's Roman Catholic Church in Pascoag, RI from 1996 until his retirement in June 2013.  He devoted his life to the priesthood and religious education since he was ordained in 1979. He continued his ministry at St. Elizabeth's Health Center in East Greenwich RI where he lived until his passing on May 10, 2023. He was 72 years old.
Rev. Clifford J. Cabral of East Greenwich, R.I. 2023 Obituary. 
Rev. Fr. Clifford J. Cabral, age 72, Pastor Emeritus of St. Joseph's Church, Pascoag, RI, passed away on Wednesday, May 10, 2023, at Saint Elizabeth's Home in East Greenwich. Born in Fall River, MA, he was a son of the late John J. Cabral and Lillian (Luciano) Cabral. He was also a brother of the late John C. Cabral.
   He attended Tiverton Elementary and secondary Public Schools followed by the College Seminary of Our Lady of Providence, Warwick (BA in Literature) and The Catholic University of Louvain, Belgium (MA in Religious Studies). After a Deacon program year at St. Catherine's Church, Warwick, he was ordained a priest on June 30, 1979, in his home parish of St. Christopher, Tiverton, by Bishop Louis E. Gelineau. Father Cabral served as Assistant Pastor of St. Luke's, Barrington, St. Matthew's, Cranston, and then seventeen years as Pastor of St. Joseph's, Pascoag until ill health forced his early retirement.
   He served on several Diocesan programs including the Insurance Commission and the Catholic Foundation of RI. Father Cabral started St. Luke's "Young-at-Heart" Seniors and St. Joseph's Senior Group. He was Chaplain of the Knights of Columbus, Pascoag Council #383 and Friar of the 4th Degree Knights of Columbus, McVinney Council, Greenville. In his leisure time, he enjoyed theatre, film, reading, and relaxing with Father Frank Keefe at his home in Jamestown.
   Father Cabral is survived by: two brothers, Andrew and David Cabral; three sisters, Anne Duval, Madeleine Turcotte, and Stephanie Silvia; as well as several nephews and nieces. Father Cabral would like to also acknowledge his "special" Sisters: Marjory (Medeiros) Furtado-Shea and Carol (Medeiros) Hines.
   His Concelebrated Mass of Christian Burial will be offered in St. Christopher's Church, 1660 Main Road, Tiverton on Wednesday, May 17, 2023, at 10:30 am, followed by Committal and interment in Our Lady of Fatima Cemetery, Little Compton. Calling Hours are from 4:00 to 7:00 pm in St. Christopher's Church on Tuesday, May 16, 2023 (previous day). Please omit flowers.
   In lieu of flowers, kindly consider a generous donation in his memory to St. Joseph's Church, P.O. Box 188, Pascoag, RI 02859, St. Christopher's Rectory, 1554 Main Rd, Tiverton, RI 02878, or Saint Elizabeth Home, 1 St. Elizabeth Way, East Greenwich, RI 02818. To ensure that the family receives all online condolences you may wish to share, please submit only to the Silva-Faria Funeral Home's website [ www.silvafaria.com  at "Sign Guestbook" or "Send Sympathy Card"] and not through a third party. Thank you!