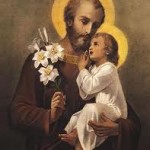 St. Joseph 
Saint Joseph, patron of the universal Church, watch over the Church as carefully as you watched over Jesus, help protect it and guide it as you did with your adopted son. Amen
Prayer To Saint Joseph For The Whole Church
O Glorious Saint Joseph, you were chosen by God to be the foster father of Jesus, the most pure spouse of Mary, ever Virgin, and the head of the Holy Family. You have been chosen by Christ's Vicar as the heavenly Patron and Protector of the Church founded by Christ. Protect the Sovereign Pontiff and all bishops and priests united with him. Be the protector of all who labor for souls amid the trials and tribulations of this life; and grant that all peoples of the world may be docile to the Church without which there is no salvation. Dear Saint Joseph, accept the offering I make to you. Be my father, protector, and guide in the way of salvation. Obtain for me purity of heart and a love for the spiritual life. After your example, let all my actions be directed to the greater glory of God, in union with the Divine Heart of Jesus, the Immaculate Heart of Mary, and your own paternal heart. Finally, pray for me that I may share in the peace and joy of your holy death. Amen.
Prayer to Saint Joseph for Success in Work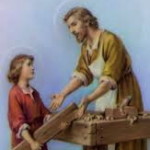 Glorious St. Joseph, model of all those who are devoted to labor, obtain for me the grace to work conscientiously, putting the call of duty above my many sins; to work with thankfulness and joy, considering it an honor to employ and develop, by means of labor, the gifts received from God; to work with order, peace, prudence and patience, never surrendering to weariness or difficulties; to work, above all, with purity of intention, and with detachment from self, having always death before my eyes and the account which I must render of time lost, of talents wasted, of good omitted, of vain complacency in success so fatal to the work of God. All for Jesus, all for Mary, all after thy example, O Patriarch Joseph. Such shall be my motto in life and death. Amen.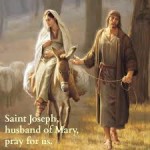 MEMORARE to St. Joseph
Remember, most pure spouse of Mary, ever Virgin, my loving protector, Saint Joseph, that no one ever had recourse to our protection or asked for your aid without obtaining relief.  Confiding, therefore, in your goodness, I come before you and humbly implore you. Despise not my petitions, foster-father of the Redeemer, but graciously receive them. Amen.