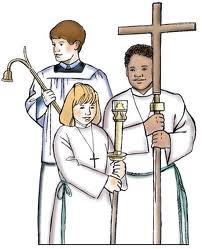 Young men and women assist the Priest before Mass by preparing the credence table and during the Mass. Altar Servers are required to assist at other liturgical events such as the Stations of the Cross, Benediction, Weddings and Funerals. To be an Altar Server is a great honor and a privilege and can deepen one's own spirituality.
Alter Servers wear approved attire and lead the procession at the beginning and end of Mass carrying the Crucifix and candles. Upon reaching or leaving the altar, they always make a profound bow with the others.
Both boys and girls are encouraged to join this special ministry as well as adult men and women. The Church needs Altar Servers of all ages to assist with Mass during the week as well as on weekends. It is not difficult to be an Altar Server, and training will be provided.
If you are interested in becoming an Altar Server and you have made your First Holy Communion, and live in accordance to the teachings of the Catholic Church, please contact the Parish Office for additional information.