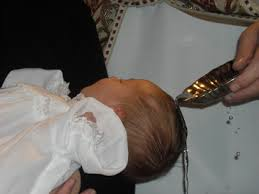 We love to welcome new parishioners, especially through Baptism.
If you are a registered parishioner and looking to baptize your child, please call the Parish Office in advance to schedule an appointment with the Pastor to arrange for your child's baptism.
Being Godparents is a religious responsibility, and you are role models for Catholic Christian living.  The Godparents must:
Have received all their Sacraments of Initiation (Baptism, Reconciliation, Holy Communion and Confirmation).
Be at least 18 years of age.
Be registered in a parish and attend Mass regularly.
If the Godparents are married, they must be in a valid Catholic marriage.
Complete and sign a Certificate of Eligibility.
---