Prayers For Our Men and Women Of The U.S. Military
Prayer for the Safety of a Soldier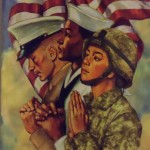 Almighty and eternal God, those who take refuge in you will be glad and forever will shout for joy.  Protect these soldiers as they discharge their duties.  Protect them with the shield of your strength, and keep them safe from all evil and harm. May the power of your love enable them to return home, in safety, that with all who love them, they may ever praise you for your loving care. We ask this through Christ our Lord. Amen.
Please remember members of the U.S. military; Army, Air Force, Navy, Marine Corps and Coast Guard, and their families in your daily prayers as well as our Veterans.
To learn more about pastoral ministries and spiritual services to those in the United States Armed Forces visit the Archdiocese for the Military Services, USA at http://www.milarch.org.
Your prayers and support matters. Thank you and God Bless America.