Capital Improvements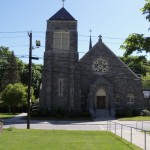 As you may have noticed, this past fall the rectory roof was re-shingled fulfilling the recommendations by Catholic Mutual Insurance Company.  The roof repair cost $18,000.00 which was reserved in our capital fund account.  Unfortunately, the winter weather took a toll on the small roof on the side of the sacristy. These repairs will be completed in the spring to prevent a problem next winter.
Repairs were completed on the fleche and copper roof cap that were damaged in a bad wind storm last year.  Other church repairs were completed as needed, some due to water leakage and routine maintenance.
We remain optimistic that our next big project will be to install air conditioning in St. Joseph Church. The units that we are currently getting bids on are called mini-splits; they are wall units which have the ability to provide cooling in the summer and heating in the winter. The initial information on what it will cost is $31,000.00 to install 10 units along with $3,500 for electrical upgrades to accommodate the mini-splits, for a total of approximately $34,500.00.
Thank you.