St. Patrick's Church Food Pantry is located in the Rectory basement in Harrisville, and gladly accepts non-perishable food items, pet food, cash and gift card donations throughout the year. (I.E. Grocery cards and gas cards).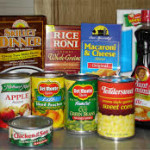 We always need the following items:
Peanut Butter
Jelly
Tuna fish
Macaroni and cheese
Can of Beans (red kidney, black, navy pea)
Canned vegetables
Spaghetti/ Spaghetti sauce
Rice
Boxes of Instant Potatoes / Boxes of Scalloped Potatoes
Hamburger / Tuna helper
Toothpaste/ toiletries
Diapers (all sizes)
Grocery gift cards i.e. Dino's, Bridgidos, Stop N Shop etc
Hearty Soups / Broth
Hot Chocolate/Tea/Coffee
Oatmeal
Breakfast Cereals
Bisquick
Pancake mix
Bread / Cake mixes
Jello / Pudding box mixes
Condiments (I.E. Salt, pepper, mustard, ketchup, relish, mayonaise)

*

Pet food (Cat and dog food, and cat litter is always appreciated)

*

Household staples (Kleenex, toilet paper, paper towels, cleaning supplies, etc)

*

Gas cards and store gift cards (Walmart, CVS, Dino's, Brigido's)

*
Hunger is not seasonal. Please donate generously and regularly to help keep our pantry shelves well stocked so we can answer the need to feed our neighbors and fellow parishioners. No time to shop! We also accept cash donations and will provide an official receipt upon request. Your cash or food donation does matter. Thank you in advance for your support and may God Bless you. (To be eligible you must be a Burrillville resident.)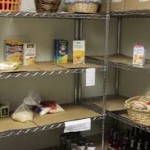 Volunteers are always needed to offer their services on Monday evenings to carry out groceries to cars or assisting in other areas of need. Teenagers…your participation will be credited towards community service hours required for Confirmation.
For more information or if you are interested in volunteering please call Our Lady of Good Help or St. Patricks Inter-Parish office at 401-568-5272 between 9:00 a.m. to 2:00 p.m. Monday through Thursday.
Food Pantry Directors, Gary and Lynn Rousseau. 
Thank you and God bless you.