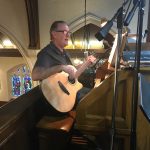 Our Music and Choir Ministry enriches the liturgy through their songs and music.  Parishioners who would love to share their "God-given talents" and "angelic voices" and, who live according to the teachings of the  Catholic Church, are encouraged to join the choir and share their voices at Mass.
Gifted musicians and singers are always welcome and needed to sing at weekly Mass, Weddings and Funerals.
Contact the Parish office if you are interested in joining the choir etc.  Attendance at choir rehearsals is required.